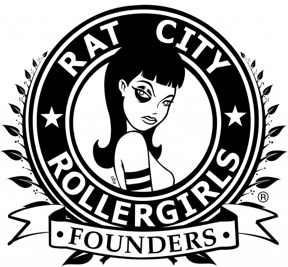 Founders Club was created in 2009 to recognize the members who started Rat City Rollergirls, now known as Rat City Roller Derby. Through their dedication and hard work, we moved from skating in a small rink in White Center, to selling out the Key Arena, and continuing to spread the love of roller derby in the Pacific Northwest. The RCRD Founders embody Rat City Roller Derby's history and formation – forged by time, strength and wisdom. The RCRD Founders stand as a base to share and pass down knowledge. Having walked down the intricate paths of being active skaters and coming out the other side willing to impart our wisdom and foster goodwill to skaters still on the track.
Rat City's Founders represent our long history of athleticism, hard work, community involvement, and giving back to the sport of roller derby.
The Founders logo represents this goodwill with symbolism inspired by the heraldry of Alumni Military and University organizations. The laurel leaves and olive branches symbolize peace and maturity due to the unusually long time the olive takes to grow its fruit.
The vision of the Founders and Founder's Club is to be a starting point to chronicle growing RCRD history. The Founders comprise the core group of members who built the league in White Center at Southgate Skating Rink in 2004. The Founder's Club represents former skaters'  exemplary service to the league through working above and beyond the standards imposed on an active skate, measured in part by the numerous hours they have devoted to league operations. 
At some time in every skater's career, they will face the tough decision of hanging up their skates. The Founder's Club welcomes these alumni, now no longer skating, and celebrates their contributions.
Founders
We thank these founders for building the foundation of Rat City Roller Derby.
Founder's Club
Members who have put in 1,000+ hours of participation since their start date, including active, alumni, and retired members